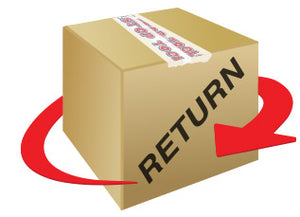 Product Returns
Returns
Delivery Information
Orders are processed and delivered Monday-Friday, we do not despatch or deliver on weekends. Orders placed after 11am (GMT) will be processed the following working day. Unfortunately we can not be held responsible for deliveries that are late.
We offer FREE standard delivery on all orders within the European Union and the UK over 60.00 GBP / EUROS all orders under 60.00 GBP or EUROS have a transport charge of 7,95ŠäŒ
Returns Information
Returns for exchange, or returns for refund are processed the same way, please select the returns product below and proceed to checkout with all your details logged. Once you have made payment we will process the request within 24 hours, from Monday to Friday.
Please use the same packaging that we delivered to you and close the box with sello-tape. Our logistics company TNT will come to you address and collect the goods.
Once the goods have arrived back in our warehouse we will ship the exchange or process your refund.
This process takes between 5-7 working days, so please be patient.
If you have any questions or quieries please feel free to contact us via email at info@iaccesscorp.com or via telephone on +353 21 4821106 or UK 0845 4503702.
ξ